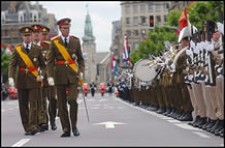 Luxembourg
National Anthem
Where the Alzette slowly flows,
The Sura plays wild pranks,
Where fragrant vineyards amply grow
On the Moselle's banks ;
There lies the land for which we would
Dare everything down here,
Our own, our native land which ranks
Deeply in our hearts.
O Thou above whose powerful hand
Makes States or lays them low,
Protect this Luxembourger land
From foreign yoke and woe.
Your spirit of liberty bestow
On us now as of yore.
Let Freedom's sun in glory glow
For now and evermore.
------------------------------------------------------------------------------


Vianden Chateau

This stable, high-income economy features solid growth, low inflation, and low unemployment. The industrial sector, initially dominated by steel, has become increasingly diversified to include chemicals, rubber, and other products.

Growth in the financial sector, which now accounts for about 22% of GDP, has more than compensated for the decline in steel. Most banks are foreign-owned and have extensive foreign dealings. Agriculture is based on small family-owned farms.

The economy depends on foreign and trans-border workers for more than 30% of its labor force. Although Luxembourg, like all EU members, has suffered from the global economic slump, the country has maintained a fairly strong growth rate and enjoys an extraordinarily high standard of living.




GDP (purchasing power parity): US$ 25 billion (2003).
GDP per capita (purchasing power parity): US$ 55,100 (2003)
GDP growth rate: 1.2 % (2003).
Unemployment rate: 3.6 % (2003).
Currency: euro (EUR).
Industries: banking, iron and steel, food processing, chemicals, metal products, engineering, tires, glass, aluminum.




Population: 462,690 (July 2004).
Population growth rate: 1.28 % (2004).
Life expectancy at birth: 78.6 years.
Religions: 87% Roman Catholic, 13% Protestants, Jews, and Muslims.
Ethnic groups: Celtic base (with French and German blend), Portuguese, Italian, Slavs (from Montenegro, Albania, and Kosovo) and European (guest and resident workers).
Languages: Luxembourgish (national language), German (administrative language), French (administrative language) .
Nationality: noun - Luxembourger(s). Adjective - Luxembourg


Active Links *
*
SIX REASONS TO VISIT LUXEMBOURG
------------------------------------------------------------------------------
*

Luxembourg

English

Language Daily
August 19 - September 7

Schueberfouer

Luxembourg Carnival Time

*

Radio Luxembourg

Online
(click Live Stream starten)
American WWII War Dead
In Luxembourg


*

Luxembourg

English

Language Daily




*

Luxembourg

News

Wires




*

Luxembourg

-China

Relations




*

Luxembourg

freezes

Abacha accounts



Prime minister: Jean-Claude Juncker
Mr Juncker, of the conservative Christian Social Party, has been prime minister since 1995 when his predecessor, Jacques Santer, became president of the European Commission.
He carries on as premier in coalition with the Socialist Workers Party following general elections in June 2004. For the five years before that his party had formed a coalition government with the Democratic Party.
Mr Juncker was born in 1954 and is a lawyer by training.
Luxembourg Media

Despite its size Luxembourg exerts immense media clout and has a long tradition of operating radio and TV services for pan-European audiences, including those in France, Germany and the UK.
The Luxembourg-based media group RTL is behind much of this activity. RTL's radio stations have been a part of the broadcasting landscape in France and Germany for decades.
Generations of British listeners grew up with Radio Luxembourg, which beamed pop music programmes into the UK on the legendary "208" wavelength. "The Great 208" is no more, but RTL's TV and radio stations remain key players in media markets across Europe.
Luxembourg's media empire extends to the skies. The country is home to Europe's largest satellite operator, Societe Europeenne des Satellites (SES), which operates the Astra satellite fleet.
RTL and other privately-owned radio and TV stations broadcast to domestic audiences. The constitution guarantees freedom of speech and of the press. Print media are privately owned and reflect diverse viewpoints.
*
Radio

Luxembourg
Online
(click Live Stream starten)